RUTLAND PLACE'S COMMUNICATION & RESPONSE TO COVID-19
Our nation is very slowly transitioning out of the pandemic resulting from a virus infection called Covid-19. Precautions are being taken everywhere possible, as case counts begin to level off. It is important to note that the virus is still very prominent across the states, and poses a threat to the entire population, but more specifically to those who have weakened immune systems and the elderly.
In our area of the country businesses are beginning to reopen their doors, and people are venturing out of their homes. Equally outstanding is that the Stay-At-Home order by the Governor of TN may have expired for business and the general population, however, the senior housing community, hospitals, etc. must continue to follow the guidelines set for by the CDC. Our resident age group is considered a high-risk population, and if they have other medical conditions, the risk multiplies. That risk will not abate until such time the virus is eradicated. Therefore, the transition for our residents will be much slower than that of the general citizenry.
Here at Rutland Place we have taken several measures to minimize the possibility of the virus infecting anyone within our building, and we continue to pursue more drastic measures to maintain the safety of our residents and staff.
After long deliberation with our staff, guidance from the Centers for Disease Control and the Tennessee Department of Health, as well as the strict protocols in place effecting staff availability, we have decided the time has come to initiate a transitional protocol of Rutland Place. Other communities in our area have implemented similar measures, and we all are convinced that the time has come to do the same at Rutland Place.
Effective Friday morning at 8:00 am, May 8th, the transitional protocol went into effect. Residents are now allowed to leave their apartments and move about in the common areas of the property, all the while, keeping a safe distance and masking to avoid this contagious virus. All other restrictions remain in place, including visitor restriction and screening, and no off-property visits except for essential medical visits.
During Transitional Isolation the following will occur: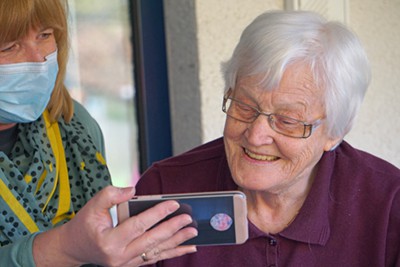 All visits are restricted to essential Healthcare Workers (HCW). Even these visitors will continue to be screened and must wear personal protective equipment (PPE) while in the building.
The Front Door will be locked, and visitors/staff will need to ring the doorbell to be screened & approved for entrance.
No family members, vendors, or other visitors will be allowed to enter the building unless prior authorization has been provided by the Executive Director (or designee) or TSS Management. Strict guidelines are in place for approval and will be based on essential necessity only.
If family is shopping for a resident, items may be left by ringing the doorbell and handing off to the attendant for delivery. Sorry, but no family will not be allowed into the building for the protection of our residents and staff. Grocery shopping can still be attained by shopping online. If you need help placing an order, contact the RUTLAND PLACE HOTLINE at (615) 260-8016. Groceries and all packages can be left at the Front Door, as well, and staff will deliver to the resident's apartment.
Residents are welcome to go outside for a walk or to walk pets but will need to leave and return by the Front Door for screening. PLEASE observe social distancing precautions, wear a mask and remember to wash your hands as soon as possible.
All Housekeeping services will discontinue, except for trash collection. Please have your trash tied in a plastic bag and sitting outside your apartment door no later than noon (12:00 p.m.), Monday through Friday. A housekeeper will pick up your trash and make the disposal for you. If residents have an urgent need, contact the Front Desk. If you have a housekeeping emergent need, please call the RUTLAND PLACE HOTLINE at (615) 260-8016 for assistance. A plan is in place to transition the service back online and residents will be notified by Housekeeping personnel of their schedule.
Meals will continue to be delivered to the residents' apartments. Residents are provided a weekly menu from which to make a choice of two meals for the next day. Orders are taken during the daily phone calls made to residents for wellness checks. The Food Services department will contact residents within the next couple of days to begin social distancing, reservation only restaurant dining.
Personal Support Services will continue, but only essential services are being offered.
Maintenance services are on a need-only basis. Other services, such as hanging rods, etc. are suspended until further notice. Residents work orders may be called to the RUTLAND PLACE HOTLINE at (615) 260-8016.
Beauty Shop services are also back online, but again, social distancing applies. This means only one resident at time in the shop.
Mail will continue to be distributed on third shift.
Residents who need assistance with calling or video chatting with family members, residents may call the RUTLAND PLACE HOTLINE (615) 260-8016.
We ask you to please help us to keep our residents and staff safe by following the protocols we have installed. Following all the "social distancing", masking, cleaning and isolation guidelines on top of the transitional protocol above means everyone can get back to a normal routine sooner than later. PLEASE HELP US HELP THEM